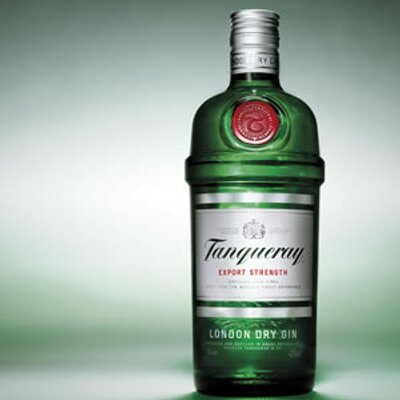 On the heels of releasing Tanqueray Malacca Gin, they released Tanqueray No. Ten Gin. Both of these releases were aimed at a new movement in gin, loosely referred to as New Western Style Gin, that shifted the focus slightly away from juniper to spotlight what other botanicals in gin can bring to the mix. Part of this movement came as a reaction to a new generation of drinkers who had grown up with a distaste for the strong juniper in gin, and another was as a response to the incubatory phase of the now explosive craft cocktail revolution.
No. Ten Gin gets its name from being made in Tanqueray's number ten still, also affectionately referred to as "Tiny Ten". This small still was used as an experimental run still at the distillery before becoming the key still for Tanqueray 10. There is a misconception that Tanqueray 10 gets its name from the number of botanicals in the mix; in fact, the recipe has all four of the base botanicals from Tanqueray London Dry however adds an additional 4 elements to the mix.
You can buy Tanqueray 10 Gin at most supermarkets or at The Whisky Exchange, DrinkSupermarket.com or on Amazon
.
ABV


47.3%
Botanicals include Fresh Whole Orange, Lime and Grapefruit, Juniper, Coriander, Angelica, Liquorice and Chamomile Flowers
What the Honest Crew say …

Honest Verdict

We haven't completed enough reviews yet to make an Honest Verdict.
Our Honest Verdict …

is that of the things which makes Tanqueray Ten a little unique is that it uses fresh whole citrus rather than dried citrus peels. Dried peels are used for the majority of gins on the market and very few actually use fresh fruit. 

The bottle changed in recent years, however the taste remains the same and it would be a challenge not to have this as an

 "always on our shelf as a favourite".
What other experts say …

The Gin Guide  says … You'll struggle to find a more high acclaimed gin and Tanqueray No. 10 deserves it's praise. It's a clear notch above Tanqueray's more widely available gin, and is notably higher quality as expected from a premium gin. The bottle has been redesigned in recent years, but the taste remains the same and it would be a challenge to find a gin cocktail that Tanqueray Ten would not work perfectly in. A gin shelf must-have. Continue reading review …

The Independent  says … Tanqueray 10 was distilled specially to celebrate the 10th anniversary of the Tanqueray distillery in Essex. Viva Basildon! Because this gin is a star. Order a gin martini and ask the bartender to use this – instant brownie points. It is the best martini gin we know.  Continue reading review …

Gin Foundry  says … Tanqueray No. TEN is handcrafted in small batches using their unique quadruple distillation process, with the heart of the gin created in the affectionately named 'Tiny Ten' still. Using fresh, whole citrus fruits during the process it greatly adds to the depth of character inherent in Tanqueray No. TEN Gin. Indisputably a step up in class, the gin is smoother than Tanqueray's classic offering. The gin has a full-bodied grapefruit and citrus hit to it and comes highly recommended by many bartenders as the perfect choice of gin to create Martinis. There's still plenty of juniper in the mix as well as a lovely floral note on the nose, but the smooth citrus finish and the relatively high strength is what makes this gin one of the very best on the market.  Continue reading review …

 The Gin Is In  says … The palate is certainly traditional in a lot of respects. Juniper is the star, with a lovely pine note that lasts through the finish. Coriander, too. But I think what sets it apart and what really elevates its appeal for cocktail craft is that creamy, almost slightly buttery mid-palate where the citrus jumps forward. Lots of orange and lime, but there's this suggestive vanilla buttercream tinge to it.

Overall, what you'll notice when you sip it on its own is the overall balance that it shows. You can clearly pick up where Tanqueray No. 10 is looking to differentiate itself, but also where it show humility and looks to the style's tradition and history. It's slightly less Tanqueray than you might expect given the name association. It really stands on its own and the novel touches really set it apart from its older brother.  Continue reading review …